If you're getting ready to finally build that dream outdoor kitchen in the backyard, you're probably trying to figure out what is necessary and what's just "nice" to include.
An outdoor kitchen backsplash may or may not have occurred to you, but it's something you should consider for the best possible outcome in your kitchen.
What Can You Use for a Backsplash in an Outdoor Kitchen?
There are many materials that work for an outdoor kitchen backsplash. Consider ceramic tile, stone tile, stainless steel, glass tiles, porcelain tiles, galvanized steel, wood pallets, natural stone, pebbles, brick, or concrete. There are many designs and styles you can create with each, so you can meet your perfect aesthetic.
Do I Need a Backsplash in My Outdoor Kitchen?
Technically, you don't need a backsplash in your outdoor kitchen, especially if there's no wall or structure immediately behind your stove, grill, or sink.
However, I highly recommend including one to make your life easier.
Clean-up is way easier with a backsplash.
Cooking can be enhanced and improved with a backsplash that keeps heat in the cooking zone.
Backsplashes may help prevent damage to other things around the stove, grill, or sink, by blocking heat, water, or grease from escaping to other surfaces.
What are the Best Materials for an Outdoor Kitchen Backsplash?
There are many different options I've seen folks use for outdoor kitchen backsplashes.
Ceramic, Glass, or Porcelain Tiles
Personally, this kind of backsplash is my favorite because you can more easily clean the three materials than any other material, except stone.
However, the size of tile you use is important. I've seen folks install tiny glass tiles with lots of grout in between.
Since this is an outdoor kitchen, where it will be more exposed to humidity and potentially some rain, you want to avoid backsplash tile for outdoor kitchens that will require extra grout.
Instead, choose larger tiles and less grout for a cleaner, easier surface.
Stone Tiles or Natural Stone
My second pick for outdoor kitchen backsplashes would be stone tiles.
These typically come in larger, beautiful tile sizes that are easy to clean and look amazing.
Stainless Steel or Galvanized Steel
Steel backsplashes are also fairly easy to clean and keep that way.
They are often cheaper than stone or ceramic tiles, as well, which makes them a great choice for folks on a budget.
Pallet Wood
If you're really into DIY-ing it and love to save things from the dump, installing a pallet wood backsplash can be a great option.
The wood will need to be treated with sealants, however, so be sure to include that in your cost and time estimate for installation.
Brick or Concrete
Bricks and concrete can be a great option, too, if you're going for a more rustic or rugged aesthetic.
The bricks and concrete will need to be sealed, however, as they are both porous materials that can otherwise pick up compromising water or grease a bit too easily.
Pebbles
An interesting choice, but probably the hardest to keep clean, pebbles can be installed in a backsplash in unique designs that are totally waterproof.
What Should an Outdoor Kitchen Backsplash Height Be?
The height on your backsplash is going to vary, due to a couple of different variables.
Is the backsplash behind a grill, stove, or sink?
What's behind the stove, grill, or sink?
Typically, a stove or sink needs a higher backsplash than a grill, since they are both "open" sources for splashes to erupt from.
For a grill, you probably want to have a backsplash that's at least two feet taller than the grill's cooking surface.
For a stove or sink, I would recommend a backsplash at least three feet taller than the appliance. Ideally, I'd go with one to the ceiling.
However, if you're installing a smoker/grill combo, you'll want a tall backsplash that not just covers the surface immediately behind the appliance, but reaches up to the ceiling if it's near a wall.
The backsplash can help make cleaning up smoke and debris much easier and will help to protect the material of the wall behind the smoker.
How to Install a Backsplash in Your Outdoor Kitchen?
Before you get started, there are some things you'll want to do to prepare for the installation of your tile backsplash.
Decide what kind of tile or other material you want to make your backsplash out of.
Measure the wall where you'll be installing the backsplash.
Order or purchase enough tile to have more than enough to cover the space. You always want to have at least a few extra tiles because often something breaks during installation.
Gather all your supplies ahead of time.
Install backer board or similar "preparation" materials to ready the wall where the backsplash is going.
Pre-lay the tile to ensure the tile fits properly and you know where to make cuts and trims.
Cut the tile(s) as needed.
Prepare the mortar for installation.
Apply the mortar.
Lay the tile and pre-seal.
Grout the tile in and properly seal the grout.
Finally, seal the tile.
Let the project set for 48 to 72 hours before using.
For a full written out, detailed instructional, find this great one on Home Depot, or watch this YouTube video aimed at outdoor kitchen backsplash installation:
Our Favorite Outdoor Kitchen Backsplash Ideas
Now, to the best part – outdoor kitchen backsplash designs and ideas!
These are some truly stellar options we've found and highly suggest considering for your own DIY outdoor kitchen backsplash plans.
Ceramic "Wood" Tile
Via tilebar.com
For a rustic, nautical feel, you can install some of these beautiful ceramic wood style tiles that look like rustic, aged, painted wood in nautical shades.
This style allows you to have the look of wood without the potential damage that woods take on in outdoor spaces.
Tin Tile
A unique backsplash tile for outdoor kitchens would be these tin tiles, like they used to install in ceilings a century or more back.
The unique look of the tin tiles gives that shiny gloss that helps with aesthetics as well as lighting.
And it absolutely does the trick for keeping your backsplash easy to clean while rugged enough to handle the outdoors.
Short Backsplash and Bar
Via danver.com
If you have an open kitchen counter in your outdoor kitchen, you can still install a backsplash.
This short backsplash with a bar counter overhang is the perfect way to help keep the mess contained while still allowing you to see easily over the counter to the rest of the space.
LED Lit Backsplash and Under Splash
Via premieroutdoorlivinganddesign.com
Now, if you really want to light things up, you can look into installing some LED lights in your backsplash and kickboards.
These designs for an outdoor kitchen backsplash lights setup are sure to inspire some creative planning of your own!
Checkerboard Glass Tile Backsplash
Whether you opt for large or medium glass tiles, you can create a beautiful backsplash in a checkerboard pattern.
This particular design is pretty easy to create since you don't need a special pattern or skills to create it.
Instead, you just need tiles in two colors and the patience to place each tile in alternating colors as you install.
Mix and Match Tiles
If you scroll to the third design on this page at MSI Surfaces, you'll see a beautiful mix and match tiles design.
You can apply the tiles in a set pattern or just go full out mix and match – whatever you prefer!
Just be sure to choose four to seven colors of tiles in the same size and mix them up as you install.
Vintage, Stylized Backsplash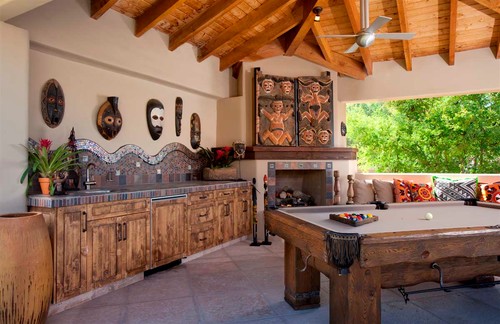 This backsplash on Houzz has both a vintage and almost "wild" feel to it.
The unique design calls back to earlier days, while the coloring and specific tiles chosen give a more natural feel to it.
This particular style would work perfectly with a safari or big game-themed kitchen or if you change up the tiles a hint, a nautical or beach-themed space.
Pallet Wood Backsplash and Kitchen
Via 1001pallets.com
This great idea from 1001 Pallets uses loads of pallets to not just create a beautiful rustic backsplash, but the whole outdoor kitchen!
Check out the various components of the design for a fresh take on what a rustic outdoor kitchen could look like.
Simple Painted Brick Backsplash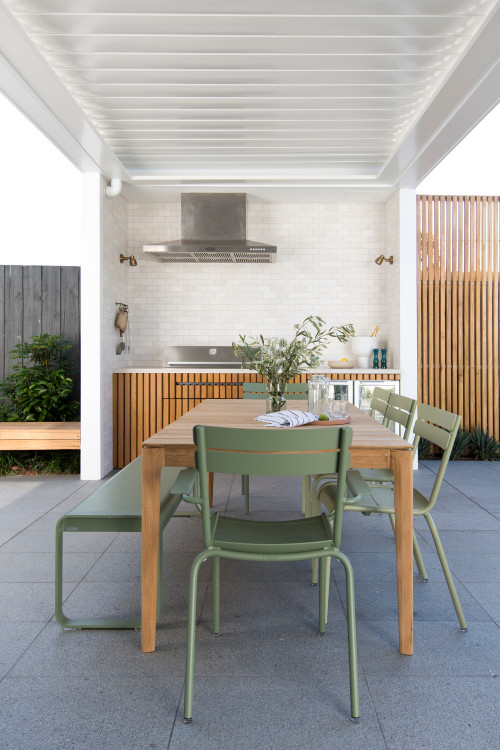 For a simple yet elegant look, check out this plain, white-painted brick backsplash. The attractive style and straightforward coloring are perfect for almost any style of kitchen you might have.
Modern Outdoor Kitchen Backsplash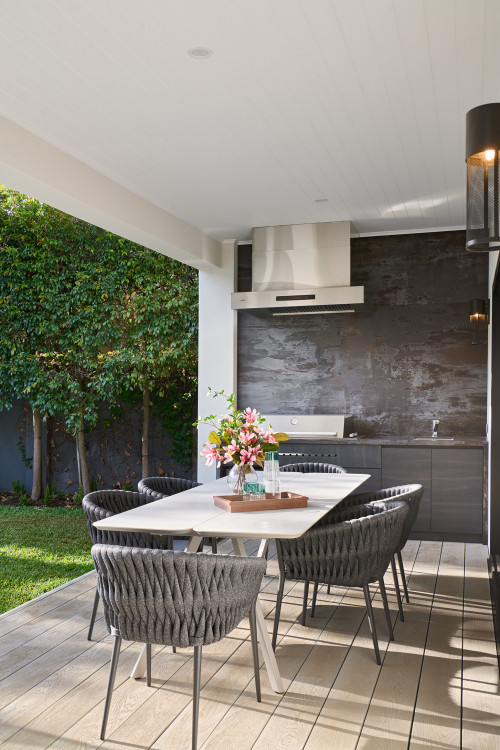 For a modern outdoor kitchen backsplash, consider this style of polished concrete backsplash.
The beautiful color and uneven patches of the various shades make it a truly lovely option.
This particular style would pair perfectly with practically any modern kitchen design, as long as it would look great with shades of gray!
Colorful Tile Wall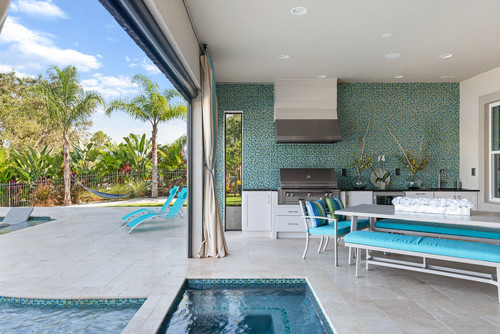 If you don't want a single section of the wall to be a backsplash, you could open up the design and do the whole wall (or top half, at least!) in the same tile.
This picture gives a great example of how to do so beautifully, with colorful tiles that both blend with and enhance the colors in the space.
Stainless Steel Backsplash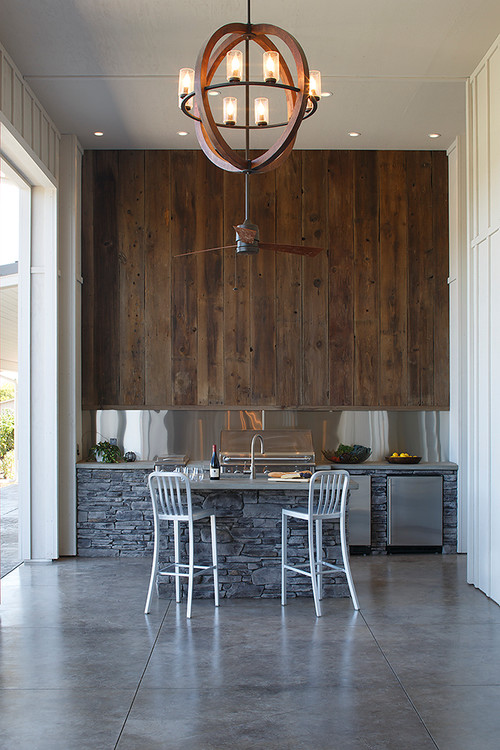 Here's an elegant example of a stainless steel backsplash. The sleek, shiny steel makes for the perfect accent while providing the protection of a backsplash.
U-shaped Outdoor Kitchen Backsplash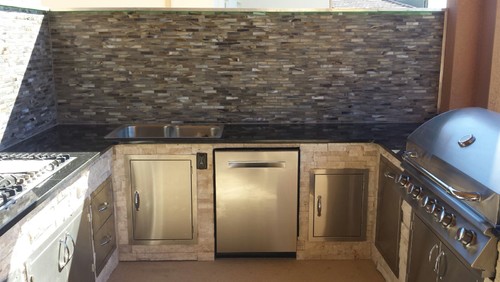 Here's a U-shaped outdoor kitchen designed with "sliver" tiles or pavers as the backsplash.
You can use this as inspiration as you design your own kitchen with a tall enough backsplash to catch it all – and help you keep it clean.